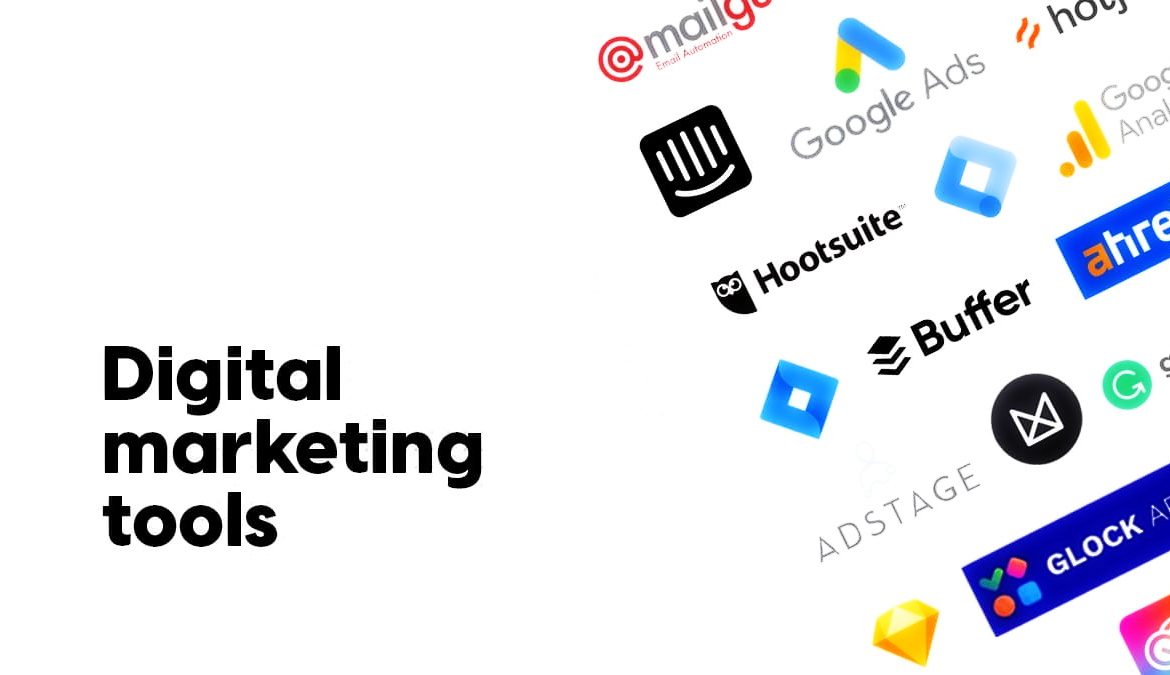 Digital marketing is a complex and ever-changing landscape. There are many different tools that can help you manage your business and make sure that you are getting the most out of your marketing efforts.
When you are looking for the right digital marketing tool, the first step is to figure out what you need in order to reach your goals.
A very important thing to consider when looking for a digital marketing tool is how much time it will take for you to implement it in your workflow. You want a tool that will help you increase your productivity and not take away from it.
In this section, we will look at some of the most popular digital marketing tools for any business to have in order to succeed online.
The digital marketing tools listed below are ones that we at KrotovStudio find to be the most useful for our clients. Each of these tools has a specific purpose and function, and they all have their strengths and weaknesses.
These are the 10 best digital marketing tools for your business:
Google Analytics: It helps track website traffic and provides insights on how to improve your site's performance. Google Analytics is a free service offered by Google that helps you monitor and analyze traffic to your website or blog from both desktop and mobile devices.
Google Adwords: it is a paid service offered by Google that helps you create text ads for display on an ad network such as the Google Display Network or YouTube Video Ads network.
Grammarly: it is a great new marketing tool that can be installed on different platforms and offers you specific suggestions to help you improve your writing — and it goes way beyond grammar. You can be confident that your writing is not only correct, but clear and concise, too. Be sure to register your account to receive a personalized writing report each week to help you track your progress and identify improvement areas.
HubSpot: It helps generate leads and nurture them with email campaigns. HubSpot's CRM platform has all the tools and integrations you need for marketing, sales, content management, and customer service. Each product in the platform is powerful alone, but the real magic happens when you use them together.
MailChimp: with this tool you get the options you need to sell your products, reach new customers, and take your business to the next level. MailChimp is a marketing automation platform and email marketing service for managing mailing lists and creating email marketing campaigns to send to customers. 
Swipe pages: it is a cloud-based landing page solution designed to help agencies and businesses in real estate, eCommerce and other sectors create accelerated mobile pages (AMP) using predefined templates and a drag-and-drop interface.
Yoast: If you use WordPress, then you must know about Yoast. Yoast SEO makes sure your site meets the highest technical SEO standards. It also gives you the tools to optimize your content for SEO and overall readability. Yoast also helps to optimize the content and the landing pages ensuring better customer engagement. 
Trello: Commonly known as Trello Board, it is a very easy tool to set up and use. It helps to track the progress of different projects that are assigned to various work teams. From meetings and projects to events and goal setting, Trello's intuitive features give any team the ability to quickly set up and customize workflows for just about anything.
SEMRush: this is a popular SEO tool that specializes in keyword research, competitor analysis and Google Ad campaign optimization. Semrush is an all-in-one tool suite for improving online visibility and discovering marketing insights. Its tools and reports are able to help marketers that work in the following services: SEO, PPC, SMM, Keyword Research, Competitive Research, PR, Content Marketing, Marketing Insights, Campaign Management.
Canva: it is a free graphic design platform that's great for making invitations, business cards, Instagram posts, and more. It provides you with the best tools to create an excellent design in only a few minutes. A drag and drop interface makes customizing thousands of templates simple and easy. Canva's wide array of features allow you to edit photos without extensive photo editing knowledge or experience.
A digital marketing strategy is a forward-thinking plan to grow a business. Tactics associated with a digital marketing strategy include website design, SEO, paid ads, content marketing and social media marketing.
And all these digital marketing tools will give your business a great help to achieve your goals.